Florida Sports Injury and Orthopedic Institute has its very own physician directed Physical Therapy on site. Not only will you have the finest Orthopedic physicians treating you at our institution but if you need Physical Therapy to get you back in the game it will be done under physician supervision here at Florida Sports Injury and Orthopedic Institute. Our team of physicians and our licensed Physical therapist work hand in hand to customize and treat each patient as an individual and get them back in the game.
If a therapist has a question for the doctor during your physical therapy session, the doctor is just a few steps away. We have found that because our physical therapist work hand in hand with the doctors our patients' outcomes could not be better. Regardless if your physical therapy is for non-surgical treatment or for post surgical therapy, our strong team dynamic has proven repeatedly to get patients back in the game.
The physical therapist team at Florida Sports Injury and Orthopedic Institute are dynamic, encouraging, supportive, they push you to your limits and give you real expectations. They will educate you on injury prevention, conditioning and strengthening. They are honest and they work with you to get your back in the game. The Physical therapy area is furnished with state-of-the-art equipment and maintains a bright, cheerful atmosphere to aid in the healing process. Each day, our goal is to improve the quality of life for our patients by delivering an exceptional patient and customer service experience.
When you start your session, you will initially be evaluated by a team of our licensed physical therapist to determine range of motion, muscle strength, postural alignment and abnormalities in movement patterns, body mechanics and quality of movement with daily activities. Following the results of your evaluation, a personalized plan of care will be designed to help you meet your individual recovery needs. Together, we will establish clear goals and begin treatment that will be most effective to your specific injury.
Meet our Therapists: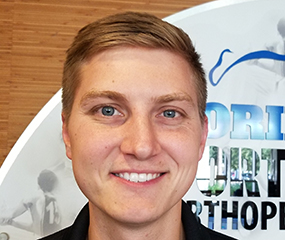 Jason Sellers
PT, DPT
Jason Sellers, DPT earned his bachelor's degree in Applied Physiology and Kinesiology: Exercise Physiology from the University of Florida. Jason then continued his schooling at the University of Florida where he earned his Doctorate of Physical Therapy.
Since graduating Jason has practiced in Outpatient Orthopedics where he enjoys helping his patients rehab from both operative and non-operative injuries. He first became interested in being a physical therapist after he suffered a hip injury playing soccer in high school and was in PT himself for 3 months recovering from surgery. During this experience Jason saw what a crucial role his therapists played in his recovery and getting back to playing soccer so he loves getting to play that role for his patients now.
Jason is a member of the American Physical Therapy Association as well as the Florida Physical Therapy Association.
In his free time Jason enjoys spending time with his wife, traveling, playing basketball and cheering on his beloved Florida Gators.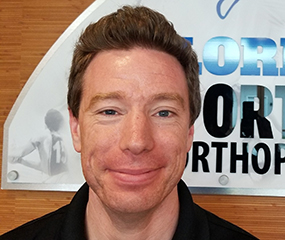 Jason Hube
PT, DPT
Jason Hube is a licensed physical therapist who earned his Doctor of Physical Therapy degree from Duke University in North Carolina. He attended Virginia Tech for undergrad where he double majored in biology and human nutrition, foods, and exercise, earning two bachelor's degrees.
His interest in physical therapy began as his interest in running began and was training for his first marathon. He is an avid runner, having run 13 marathons in total. His interests include working with recreational runners to treat and prevent injuries through changes in running technique and form to improve efficiency and reduce injury risk. He specializes in rehab of both surgical and non-surgical orthopedic injuries to allow patients to return to doing what they love.
He and his wife have three cats and he is a Disney lover and visits the theme parks very frequently.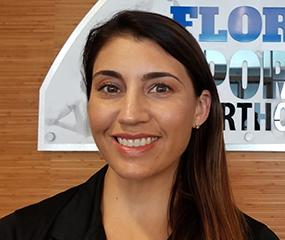 Beth Amaral
PTA
Beth Amaral is a FL licensed Physical Therapist Assistant with a background in sports and exercise science. Beth earned her PTA degree at Polk State College and attended The University of Central FL Sports and Exercise Science program with an emphasis in Human Performance.
Beth has specialized training in therapeutic rehabilitation of the shoulder complex, rehabilitation of the recreational runner as well as applied kinesiology for therapeutic Kineso Tape interventions to treat athletic injuries, post-surgical patients and chronic pain.
Beth is a Group Exercise Instructor with 14 years of experience. She has specialized training in geriatric populations, strength and functional conditioning as well as indoor cycling and Pilates. Beth holds her group exercise certification as well as group cycling certifications with the Aerobics and Fitness Association of America. Currently Beth is nearing a decade of instructing Indoor Cycling (Spin) at CF fitness, Clermont's largest fitness center.